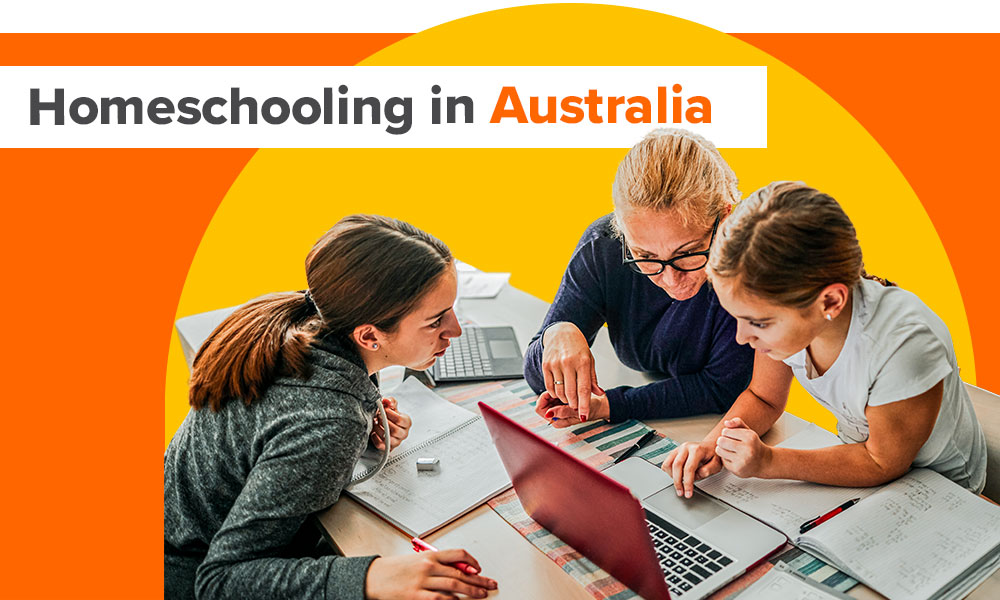 What is homeschooling
With an estimated 20,000 students across the country currently being educated at home, homeschooling is on the rise. In NSW, 4,700 students were homeschooled in 2017, up from 3,300 in 2013. This increase is consistent in every state and territory in Australia.
Homeschooling parents are entirely responsible for:
Planning and implementing their child's educational program
Providing their child with a suitable learning environment
Providing the necessary resources to support their learning
Monitoring and assessing their child's educational progress
Submitting an annual report or portfolio demonstrating their child's educational progress
Why Homeschool
There are thousands of reasons families choose to homeschool. Many cite religious or philosophical motives. Some reports credit the rise in homeschooling to playground bullying, an increase in class sizes or a lack of faith in the traditional classroom model. Some are looking to cater to special learning needs, sporting and other commitments or geographical isolation.
Discover the top reasons parents choose to homeschool >>
Why choose
Cluey

homeschooling support

If you're not comfortable teaching one or more subjects, or if you're looking for some extra support which aligns with your approach or method, Cluey is an excellent learning partner. Our flexible, online model means that your child can log in to our online platform from anywhere, utilising video, audio and collaborative whiteboard capabilities.

You can choose the areas you'd most like to focus on and specify your learning goals. Our programs can be tailored to your teaching philosophy and the needs of your child. What's more, you'll receive a report at the end of every session which can form part of your portfolio of learning progress.

Learn more about homeschooling support with Cluey >>
Homeschooling in Australia - How to get started
Any parent is legally allowed to register for homeschooling via their state's education authority. Although each state has slightly different requirements, applications usually include the following:
Details about yourself and your child
Your child's birth certificate
Proof of residence
Any extant court orders
An education plan which demonstrates your understanding of the learning requirements in your state.
Some states, including NSW and NT, require a home visit prior to approval. This is an informal meeting with an education officer to go over your learning plan and assess your teaching environment.
Looking for specific homeschooling requirements in your state?
How to successfully register for homeschooling
As part of your application, you must submit a plan for home education which aligns with the learning outcomes set out by your state education authority. You can either develop this plan yourself, download a template from your state's homeschooling website or purchase a curriculum from a homeschooling provider.
Home education programs can use a broad range of teaching styles and methods. While flexible, your home education program is required to cover the eight learning areas outlined by the Australian Curriculum.
Successful home education programs are tailored to each child's individual needs and interests. They can be unique to each family's circumstances and facilitate learning according to your specific philosophy.
How to choose the best homeschool curriculum for you
Many parents choose to homeschool because they believe that teaching and learning isn't a one-size-fits-all scenario.
If you decide to take on the responsibility for homeschooling your child, the curriculum you choose needs to be the best match for their needs. This will make your job easier, and ensure the best outcome in the long run.
Discover how to choose the right homeschool curriculum >>
Homeschooling Styles: Which method is right for you?
Looking for more?
Before you register, it might be worth considering the cost and long term impact of homeschooling on your child's tertiary education options. Will they be eligible for an ATAR? What are the pathways to further study? Are there any homeschooling resources?
If you decide to take on the responsibility for homeschooling your child, the curriculum you choose needs to be the best match for their needs. This will make your job easier, and ensure the best outcome in the long run.
How much does homeschooling cost?
How to get into University and further education
Homeschooling resources and support
Homeschooling FAQs
Do I need formal teaching qualifications to homeschool?
You don't need any formal training to become a homeschool teacher. As long as you meet the requirements and show evidence of learning, you're set!
Can anyone homeschool my child?
Homeschooling is usually done by a child's parents, however families often seek out the services of a qualified teacher or tutor to support their child's learning.
Can I start homeschooling at any time?
Unless you're withdrawing your child from school because of a serious issue, it's best to keep them enrolled until you have received approval to homeschool from the relevant authority. Although every state is different, approval usually takes between three and twelve weeks.
What are the essential subjects/curriculum I need to teach?
Although there is no set homeschooling curriculum, you'll be required to develop an educational program which covers the learning outcomes outlined by your local education authority. These include core literacy, numeracy and HSIE subjects.
How much time should I spend homeschooling?
You might find that a four day week works best, or five half days. You need to ensure you cover the requirements set out by your state education authority, but the way you teach it and the time you spend on each module is entirely up to you.
Will I be monitored by inspectors while homeschooling?
Records of implementing your child's educational program must be kept to show how the program has been delivered and how the requirements for registration are being met.
For the most part, you'll be left to implement your child's curriculum on your own, however some states require families to comply with a monitoring visit each year. This will also occur if your state education authority receives information suggesting that your homeschooling requirements are not being met for the period of registration.
Are social activities a requirement of homeschooling?
Many states clearly mention opportunities to connect as a requirement of registration. These can be woven into your learning plan (in the form of excursions or weekly group lessons), or you can take a more informal approach. Many inspectors will assess this aspect of your homeschooling experience when reviewing your registration.
What if my child has special needs?
If you have a child who for any reason doesn't fit the "ordinary" box, homeschooling could be a positive option. Homeschooling can often take the stress out of structured lessons, allowing children to learn at their own pace and in their own way. For special needs, always seek as much support as possible, both to ensure you're teaching to your child's unique needs, and to connect with other parents or teachers who might be experiencing similar challenges.
How do I plan my homeschool/learning program?
You could plan your own curriculum based on the learning outcomes detailed in your states curriculum. There are also several out-of-the-box homeschooling programs, many of which are developed by education experts and based on different approaches and teaching philosophies.
How do I document my homeschooling progress/portfolio?
There's no one way to document your homeschooling portfolio. You might put together a collection of work, which would look different depending on the age and ability of your child. A written diary or essay samples are one example. Maths worksheets, stories based on historical understanding and other creative, inquiry-based studies are other options.
What do I do if I'm overwhelmed?
Will you be able to cope with the mammoth undertaking that is homeschooling? The short answer is yes — when there's a will there's a way. But it's important to understand the realities of homeschooling and seek support in the form of outside tutoring if you feel yourself burning out.