So you've recently found yourself in the role of homeschool teacher. It's not something you ever considered or really wanted to do with your entire day, and yet here you are, worksheets at the ready.
Forget toilet paper shortages. The real struggle of 2020 is coordinating PDF downloads and Zoom details. Even as schools prepare to reopen, parents are being warned that any increase in infection rates could result in additional closures through winter.
In order to help us all feel a little more comfortable with this strange new world of homeschooling (and the possibility of returning to a state of social isolation at any point), we thought we'd discuss what, exactly, homeschooling is and how you can support your children at home without losing your mind...or your job.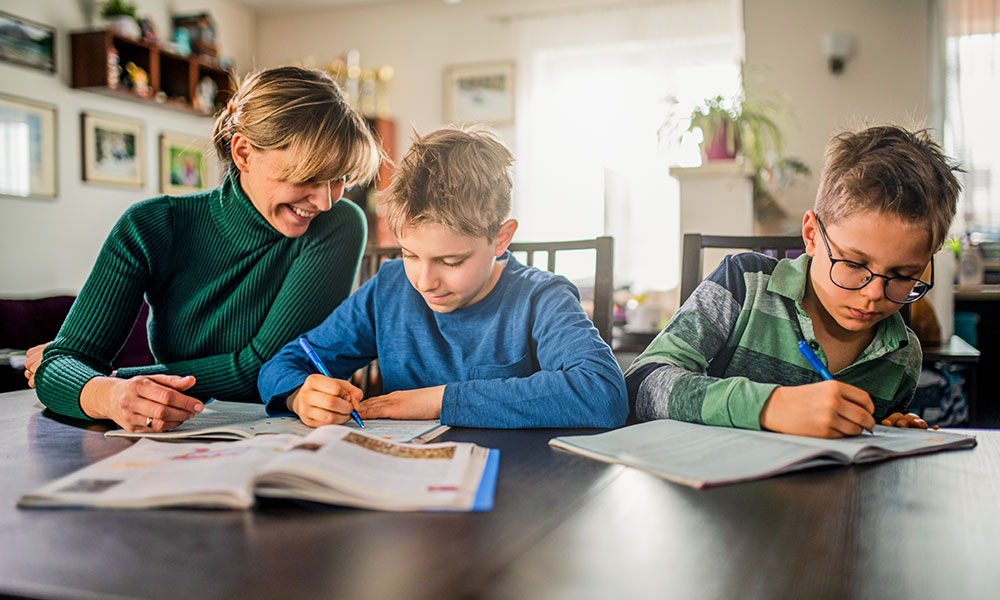 What is homeschooling?
Even before bushfires and a global pandemic forced many of us out of the classroom, homeschooling was on the rise in Australia. In fact, around 20,000 students were registered for homeschooling in Australia in 2019.
Homeschooling, or home education, is a legal pathway for parents who would like to teach their children outside of mainstream classrooms. Parents apply to their state education authority for registration and, if they can present all of the necessary documents, including a detailed education plan, they're usually approved.
Why some families are choosing to homeschool
Although every decision to homeschool is unique, many families cite religious or philosophical motives. Some reports credit the rise in homeschooling to playground bullying, an increase in class sizes or a lack of faith in the traditional classroom model.
A number of parents choose homeschooling to support a child with special needs, such as dyslexia, or to provide for gifted and talented students.
There are also parents who opt to homeschool their children because they're geographically isolated, or want to spend extended periods of time travelling. These families see education as an integrated part of their child's life, and often put a great deal of emphasis on inquiry-based learning.
Am I really a homeschool teacher?
Families who apply for registration to homeschool their children have chosen this particular approach to education. Families forced into this situation due to Covid-19 are what we like to call unintentional homeschoolers.
Although parents in both groups are currently playing similar roles (teaching younger children and supporting older ones), there is a difference.
Most schools are providing support in the form of remote lessons or worksheets which parents are implementing at home. There's no onus on unintentional homeschoolers to develop lesson plans or design learning activities. And although implementing this work really does seem like the hard part, it's nice to know that the learning outcomes have already been considered and that parents are being supported in their role with tailored schoolwork.
Understanding the challenges (and how to overcome them) from seasoned homeschoolers
We support several homeschooling families at Cluey because intentional or not, homeschooling is haaaard. No one can do everything, burnout is real and sometimes parents struggle to teach their kids, especially when there are emotions involved (and really, when are emotions not part of the equation?).
In the case of unintentional homeschoolers, parents are often trying to hold down a vulnerable job while ensuring their kids don't fall behind in core subjects. They're dealing with uncertainty and anxiety, too much screen time and the conflicts of multiple schedules. For families with multiple children, things can become genuinely unmanageable by mid-morning. In fact, lessons can quickly devolve into a disaster scenario with one wrong equation or misspelled word.
"The reason is that we think we know our child's potential, and can get quickly frustrated when things don't go to plan," says Cluey Chief Learning Officer, Dr Selina Samuels. "Children too, especially the teenage variety, tend to take things quite personally, and can be extremely sensitive to criticism from parents, however well-intentioned. They often close off, put up barriers or just generally behave differently than they would with a teacher (or literally anybody else)."
Homeschooling tips and support
Dr Samuels' key advice is to do what you can and let go of the rest. Focus on core literacy and numeracy skills and don't put too much pressure on yourself to emulate their school day.
Dr Samuels' top five tips:
Create as much structure as you can
Maintain contact with your child's teacher
Set up proximate workstations so that you can easily offer quick, "just in time" support without too much interruption to your own work
Seek out tutoring help when you need it
Don't put too much pressure on yourself