As online tutors, we understand how important the ATAR is for our students. That's why we offer personalised ATAR tutoring to help you achieve your goals.

Don't wait until it's too late discover how Cluey can help today!
Why does having a high ATAR matter?
For high school students wanting to pursue further tertiary study, a higher ATAR typically translates to getting more favourable offers from universities. It can mean the difference between going to a university that is an hour away and moving interstate to pursue your dream career. It's not just the university you go to, but also the course you gain admission to. It's all about maximising your choice in terms of course and university.
From our experience as private tutors, an online tool like an ATAR calculator can help motivate students to sprint towards the finish line.
How Do I Calculate My ATAR?
There are several ways to calculate and breakdown your ATAR, but before you do, you need to have ready your desired ATAR units to select.
Who is eligible for an ATAR?
Taking NSW as an example, to be eligible for an ATAR you must complete at least 10 units of ATAR courses (you can do more). These ATAR courses must include:
Two units of English
Eight units of Category A courses
Three ATAR courses of two units or greater
Four subjects
How is your ATAR calculated?
Your ATAR is a rank that's based on an aggregate of scaled marks in 10 units of ATAR courses comprising of:
Best 2 units of English (English as a subject is compulsory)
Best 8 units from your remaining units, which can include up to two units of Category B courses
ATAR Calculator Tips: How to estimate your ATAR
Most ATAR calculators either calculate your ATAR score or break it down.
To Calculate your ATAR score – Select your courses and enter your school marks
To Breakdown/Reverse Engineer your ATAR:
By ATAR – Enter your ATAR goal, select your courses and discover the marks you'll need
By Uni & Degree – Enter your University and desired degree and discover the ATAR score and marks you'll to need to acquire it.
N.B. When selecting your ATAR subjects some university courses have prerequisite subjects that students need to be mindful of.
Best ATAR Calculators For 2023 Students
Most online ATAR calculators operate in the same manner. They provide students with an easy visualisation of what they can expect and more importantly, identify subjects that they can improve on with the help of a tutor.
For your convenience, we've reviewed multiple ATAR calculators and guides to find the best ones for Australian high school students in 2023. 
HSC ATAR Calculators
VCE ATAR Calculators
WACE ATAR Calculators
QCE ATAR Calculators
ACT ATAR Calculators
SACE/NTCET ATAR Calculators
TCE ATAR Calculators
Stuck on an answer and need more help?
If you're struggling it might be useful to seek additional help. Cluey's personalised ATAR tutoring is specifically focused on exam prep, identifying gaps in your learning and building your confidence in your ability to answer exam-style questions.
Our expert tutors go at your pace, breaking down topics until you just get it.

Learn more about ATAR tutoring with Cluey >>
What Is An ATAR?
As a Year 11 or Year 12 student, you probably know what an ATAR is, so feel free to skip the next section to find out how you can maximise your ATAR. But if you're a Year 10 student on the verge of choosing HSC subjects, read on!
The Australians Tertiary Admission Rank (ATAR) is a numerical measure of a student's overall academic achievement in relation to all other HSC (NSW), VCE (VIC), WACE (WA), and SACE (SA) students. It is calculated by the University Admissions Centre (UAC).
Although it may look like a score out of 100 at first glance, your ATAR is a number between 0.00 and 99.95. It is important to understand that the ATAR is a ranking metric expressed in percentile. That is, an ATAR of 99.0 means that the student performed better than 99% of their peers and ranks lower than 0.95% of peers.
Replacing the UAI, the ATAR was introduced in 2009 to unify the university entrance system in Australia. Before the ATAR, each state and territory had their own system - UAI in New South Wales and Australian Capital Territory, TER in South Australia, ENTER in Victoria and OP (overall position) in Queensland. 
The ATAR ranking itself is not the goal, but it represents a threshold to reach in order to receive an undergraduate university offer. 
For HSC students, here's a quick guide to understanding how your ATAR score is calculated.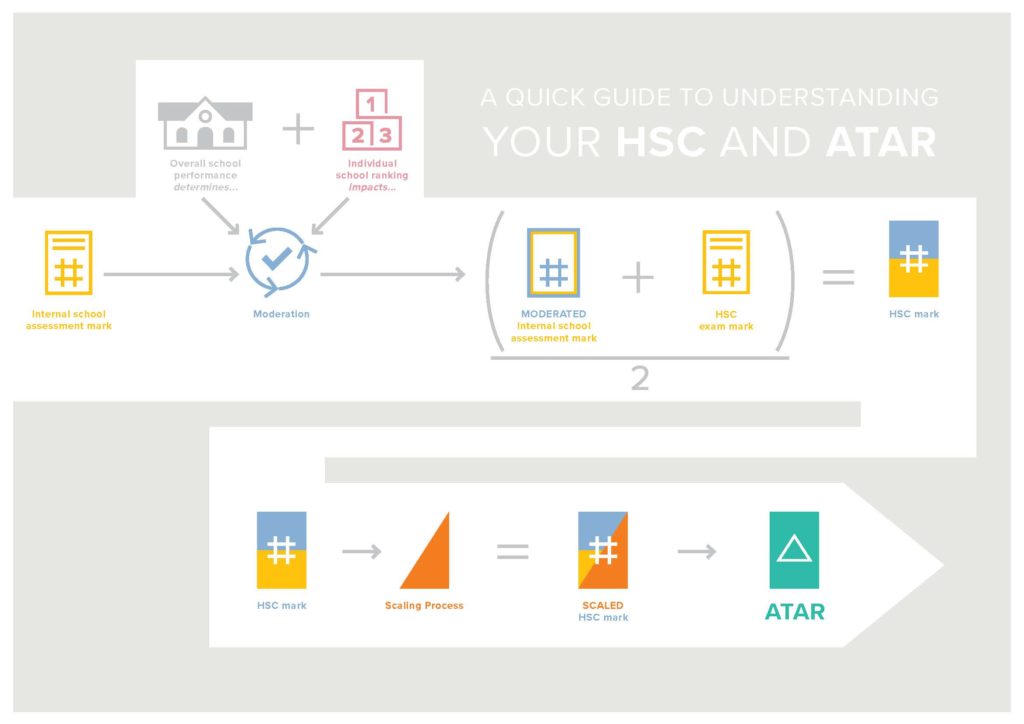 How To Maximise Your ATAR
Does undertaking certain HSC/VCE/WACE subjects correlate with a high ATAR?
Should you pick subjects that scale well?
Is Mathematics General a better choice over Mathematics?
According to the UAC, easy subjects do not maximise the ATAR. At least, not any more; the introduction of the new maths syllabus in 2019 closed a certain loophole that saw a 9 percent increase in HSC General Mathematics enrolment between 2001 and 2015.
Remember that the ATAR is a position ranking. That is, each subject has different students studying it and the scaling of a particular subject reflects the average academic abilities of the students that take it.
Historically, some subjects scale better than others but as private tutors who want the best outcome for our students, we always recommend that you choose HSC subjects that you have a genuine interest in, not purely because of scaling. In our eyes, greater interest in a subject will motivate you to pay more attention in class, to ask the right kind of questions, and generally perform better. Why? Because you care about it, rather than because you have to study it.
Since you cannot control the performance of your cohort, you should focus on what you can control – performing the best that you can in subjects that you enjoy.
In NSW, English is the only compulsory HSC subject and hence 2 units of English will count towards the ATAR. Therefore, doing well in English is the foundation for maximising your ATAR.
How can you do well in HSC English?
"If you know the enemy and know yourself, you need not fear the result of a hundred battles .." - The Art of War by Sun Tzu.
One of the best-kept secrets of high achievers is that they all work ahead (this is something to keep in mind at uni as well).
We have observed that successful HSC English students do things like read the prescribed texts ahead of time; not just once but multiple times. This will take a considerable time-investment and requires discipline - one reason why having a tutor can help ensure you stay on track to achieving the best ATAR possible!
We've helped many Year 12 students with getting the best English results possible. This is why we offer the following topics and concepts in our Year 12 English program:
Essay writing
Imaginative writing
Text types
Analysis and evaluation of texts
Representation of ideas and authorial choice
Exam preparation
Refining responses
A Quick Word On ATAR Scaling
Look, scaling happens.
Based on historical data, Chemistry and Physics scale slightly higher than Biology while Economics scales better than Legal Studies and Business Studies. Ancient History tends to scale down compared to Modern History.
Too many students spend too much time worrying about how a subject will scale. The fact is, you have no control over how the UAC will scale a particular subject in your given HSC/VCE/WACE/SACE year.
That being said, if you're good at the following types of subjects consider the following courses:
English - Advanced or Extension English
Mathematics - Mathematics Ext 1 or Ext 2
Science - Physics, Chemistry or Biology over Senior Science
Languages – Continuers courses over beginner courses
Humanities – Economics over Business Studies or Legal Studies
Scaling occurs to promote fairness and trying to game the system by picking highly scaled subjects can lead to disappointment if studying those subjects feels like pulling teeth. There are high ATAR achievers within all subject groups and our private tutors can help you get the best raw HSC result possible.
How Do ATAR Calculators Work?
Most online HSC ATAR calculators incorporate some historical ATAR scaling data in order to produce an estimate.
We tested 4 online ATAR calculators. Using the same HSC subjects of English Advanced, English Ext 1, Mathematics, Mathematics Ext 1, Business Studies, Economics, and raw HSC marks, we found that each ATAR calculator returned us with a different ATAR estimate, with a range of between 80.70 and 94.60.
There are significant discrepancies between each ATAR estimate. This is probably due to each calculator using a different set of scaling data, and sometimes requiring courses that are normally marked out of 50 to be marked out of 100. Therefore, online ATAR calculators should be used as a rough guide only.
Take Action
Online ATAR calculators can be a fun exercise but more often than not they can become tools for procrastination. Since all ATAR calculators provide estimates only, you could be lulled into a false-positive.
With our personalised online learning platform and expert tutors, you can attain your desired ATAR and gain admission to the university course of your choice. With Cluey, there's no need to travel and you can work to your own schedule. Whether your goal is to excel, keep up or to catch up, Cluey Learning has a program and tutor to help you achieve your goals.
Additional Resources