With Term 1 officially underway, we're excited to share what we're up to in 2022
Launch of Biology and Physics
We're excited to announce that Cluey Learning now offer Biology and Physics tutoring to senior students!
Students in Years 11 and 12 can now receive online, face-to-face schoolwork support in both Biology and Physics as well as Chemistry, Maths and English. All content is mapped to the Australian National Curriculum and taught by experienced tutors who are top ATAR achievers, qualified teachers and subject matter experts.
Find out more about Biology tutoring and get 20% off here
Find out more about Physics tutoring and get 20% off here
Cluey New Zealand launch
As of Term 1, we've fully launched Cluey into the New Zealand market and can now help Kiwi kids across New Zealand build their confidence and reinforce what they're learning at school.
In New Zealand we are offering Maths & English support in both 1-to-1 and Group formats for the following year levels:
Primary: Years 3-8
Intermediate: Years 7-8
Secondary: Years 9-11
We've got some talented New Zealand tutors, all of our content has been tailored and rebuilt to match the New Zealand curriculum and we're already getting some great feedback!
If you have friends or family in New Zealand please let them know about us and give them this link to get 20% off on all New Zealand enrolments.

New Schedules for Small Group Tutoring
The Small Group tutoring sessions you know and love are back this year, with a new and improved schedule to make them even more flexible and convenient.
Sessions are available for Years 3-10 and in groups of up to 5 students per session.  They aim to balance academic and social development, building core English & Maths skills and confidence in a safe, social and fun environment
Find our 2022 Small Group Tutoring schedules here.
Learn more and reserve your spot here.
New Cluey Hub Features
We're always working on improving our customer's experience; keeping them in control of their learning programs and up to speed with their child's learning progress. This is reflected in the latest updates to the Cluey Hub.
Cluey Hub now lets you:
Manage your ongoing schedule for each enrolment
Pause your sessions
Manage learning content
Change tutors easily
Stay tuned for more changes to come later this year, including our improved onboarding journey for customers with new enrolments and more.
Access your Cluey Hub account to check out the updates.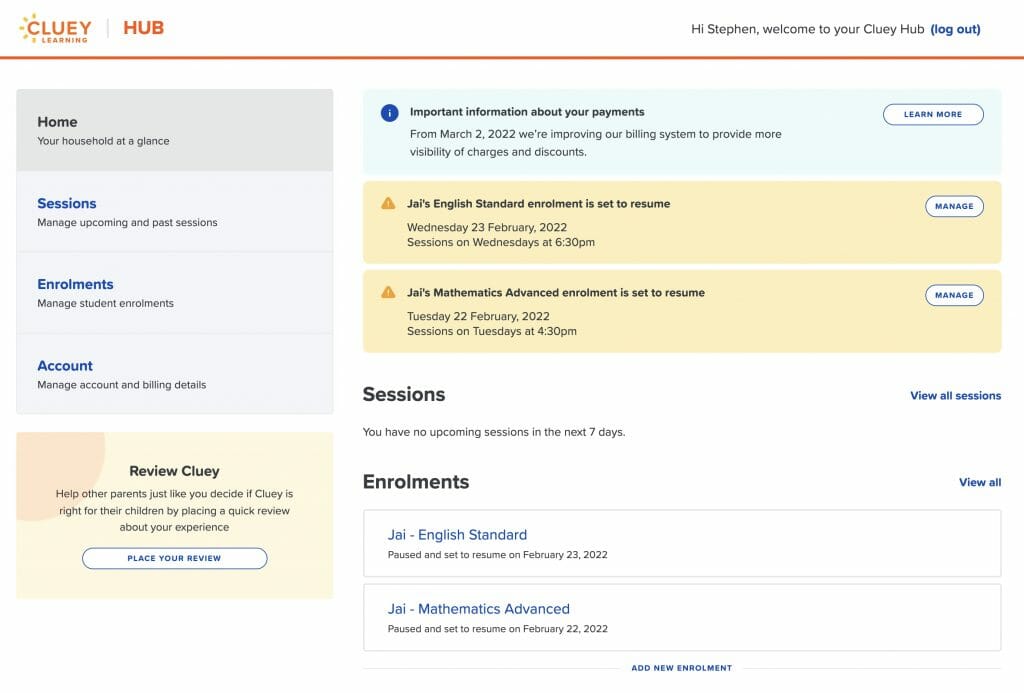 Cluey continues work in "Tutoring in Schools" program
For the second year in a row, we have been selected by the NSW Government to help roll out their "Tutoring in Schools" program to high-priority schools across NSW.
The program will provide more than 2,000 NSW Department of Education schools with some much-needed learning support following the COVID-19 related disruptions to schooling over the last couple of years. The schools involved will be given access to small group tutoring for selected students, delivered by accredited and qualified NSW teachers and tutors.
Find out more here
Code Camps new Drone Camp a big hit
Code Camp, the latest addition to Cluey – have just finished their summer holiday coding and creative camps and in the words of most attendees the camps were "awesome fun".
Over summer Code Camp launched a brand new camp – Drone Camp which taught kids how to safely fly a drone, navigate through an obstacle course, learn about drone tech and safety, make movies from a drone, and discover how drones can save the world by fighting bushfires, rescuing koalas, spotting sharks on the coast and loads more!
Check out what Hayley the co-founder had to say about Drone Camp in this Studio 10 interview:
Code Camps coding and creative camps (including drone camp) for the upcoming holidays will go on sale in March.
Find out more and book here.
Extended Sports Partnerships
We're all about supporting kids in everything they do, both inside and outside the classroom.
As well as providing funding to various sporting organisations we have launched our "Player of the Month" campaign as a way to celebrate kids' achievements on the field, whether it's talent, heart or overcoming a challenge.
This year, we'll be working with; Football Queensland, Touch Football Australia, Netball Western Australia, Western Australia Football Commission, Surfing Australia and Football South Australia with more to come throughout the year.
Find out more and nominate here.