Changing lives through learning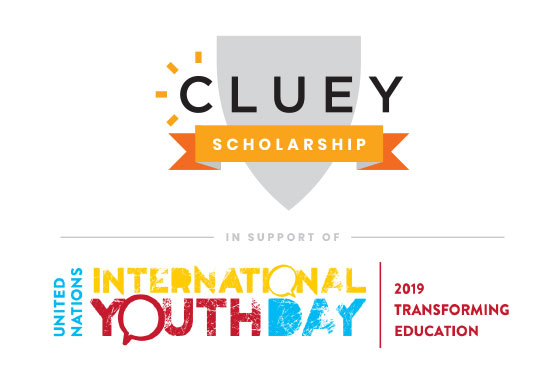 International Youth Day is celebrated each year on August 12 to recognise the efforts of young people, organisations and governments who are working to transform education and uplift societies.
In support of International Youth Day, Cluey Learning will award one school student aged 8-18 $1,500 AUD to help fund their education-related expenses, including tuition, computers and textbooks.
Applications open on August 12, 2019 and close on October 31, 2019.
Eligibility criteria
This scholarship is open to students who have a vision for the future of school education and a desire to communicate this to parents, teachers, decision-makers and policy makers.
How to Apply
Write a response of 500 words or less which addresses the following topic:
In order for school education to meet the needs of students, it needs to change. What will a great school look like in 15 years' time?


At the end of your application, please include the following information:

Full name
Postal address
Contact number
Email
The name of your school and the year you are in



Email your application to: scholarships@clueylearning.com.au
Selection Criteria
Judged by our Education Team, this scholarship will be awarded to the applicant who writes the most inspiring, innovative and well-considered answer.
For more information about us click here.
Terms and Conditions
This Cluey scholarship is being offered by Cluey Learning Pty Ltd ('Cluey'). In applying for this scholarship, you accept the Terms and Conditions.
The decision of our judges is final and binding. Winning the scholarship is contingent on complying with these terms.
WHO MAY ENTER: Applicants must be aged 8-18 and at school at the time of applying for this scholarship.
HOW TO APPLY: Each applicant must:
(1) In 500 words or less, write a considered response on the following topic:  In order for school education to meet the needs of students, it needs to change.   What will a great school look like in 15 years' time? 
(2) Include their full name, postal address, email address, school name, school year and best contact number (this can be the number of a parent);
(3) Email the application to scholarships@clueylearning.com.au
There is no cost to submit an application.
In applying for this scholarship, each applicant consents to Cluey's use of their name, email address, contributed content and photographs for all legitimate business purposes in perpetuity, including advertising and promotional activities without additional compensation unless prohibited by law.
Cluey is not responsible for any technical failure during the application period, including technical malfunction of any computer, online systems, servers, access providers, computer equipment, software, failure of email or review to be received, or any combination thereof, including any injury or damage to an applicant's or any other person's computer related to or resulting from downloading any material related to the scholarship, all of which may affect a person's ability to participate in the application process.
Subject to Cluey's sole discretion, any application that incorporates elements that are lewd, offensive, vulgar, sexual in nature, involving nudity, defamatory, infringing, or otherwise considered offensive or illegal shall be disqualified from consideration.
The successful applicant will be selected on the basis of the best written application as determined by a panel of Cluey judges on October 31, 2019. Judging will take place at Level 8, 51 Pitt Street Sydney 2000.
The successful applicant will receive $1,500 AUD. Only the scholarship specified above will be awarded. Cluey expressly disclaims any responsibility or liability for injury or loss to any person or property relating to the scholarship awarded. Cluey makes no representation or warranties concerning the scholarship awarded.
The application period begins at 12:01 a.m. Australian Eastern Standard Time on August 12, 2019 and ends at 11:59 p.m. Australian Eastern Standard Time on October 31, 2019. The recipient will be notified by phone and an announcement made via this page on November 8, 2019.
By submitting an application for this scholarship, including accepting the scholarship award, applicants agree to release, hold harmless and agree not to institute any claim against Cluey, and its affiliates, subsidiaries and their respective officers, directors, employees, agents, and representatives (collectively, the "Released Parties") from and against any and all liability whatsoever for any injuries, losses or damages of any kind arising from or in connection with, either directly or indirectly, the awarding, acceptance, receipt, possession, use and/or misuse of any prize awarded herein. Upon delivery of this scholarship award to a successful applicant, Cluey will be deemed to have awarded the scholarship to such applicant with the applicant assuming full responsibility for the award. Cluey is not responsible for any technical, hardware, software, telephone or other communications malfunctions, errors or failures of any kind, lost or unavailable network connections, website, internet, or ISP availability, unauthorized human intervention, traffic congestion, incomplete or inaccurate capture of application information (regardless of cause) or failed, incomplete garbled, jumbled or delayed computer transmissions which may limit one's ability to apply for this scholarship, including any injury or damage to your or any other person's computer relating or resulting from participating in this scholarship application or downloading any materials in relation to this scholarship application.  Under no circumstances will applicants be permitted to obtain awards for any action or claim related to this scholarship, and applicants hereby waive all rights to claim punitive, incidental, or consequential damages, or any other damages, including attorneys' fees, in relation thereto and applicants further waive all rights to have damages multiplied or increased.
Please review the Cluey Privacy Policy at https://clueylearning.com.au/privacy-policy/. By participating in this scholarship application, you hereby agree to Cluey's collection and use of your personal information as permitted by our Privacy Policy and acknowledge that you have read and accept the policy's terms.
If this scholarship cannot be conducted as planned, for any reason, including, without limitation, infection by computer virus, bugs, tampering, unauthorized intervention, fraud, technical failures, or any other causes beyond the control of Cluey, Cluey reserves the right at its sole discretion to cancel, terminate, modify or suspend the scholarship and award the scholarship from among the eligible applicants prior to the cancellation. Persons found tampering with or abusing any aspect of this scholarship application, or whom Cluey believes to be causing malfunction, error, disruption or damage will be disqualified. Cluey reserves the right to correct any typographical, printing, computer programming or operator errors. Cluey's failure to enforce any term of these Rules shall not constitute a waiver of that provision.