Year 12 Mathematical Methods
Our Year 12 Mathematical Methods program covers all relevant outcomes as outlined in the WA/ACT Syllabus. Students build on their understanding of differential calculus to discover the link to integration and to build mastery of the various techniques and their applications. Students also study the logarithmic function and its derivative. In addition, our program provides in-depth instruction on continuous and discrete random variable distributions. This builds a framework for statistical inference including confidence intervals for proportions.
In-session content
Your content plan appears in the learning environment, sequenced to your learning needs and accessible with ease by you and your tutor.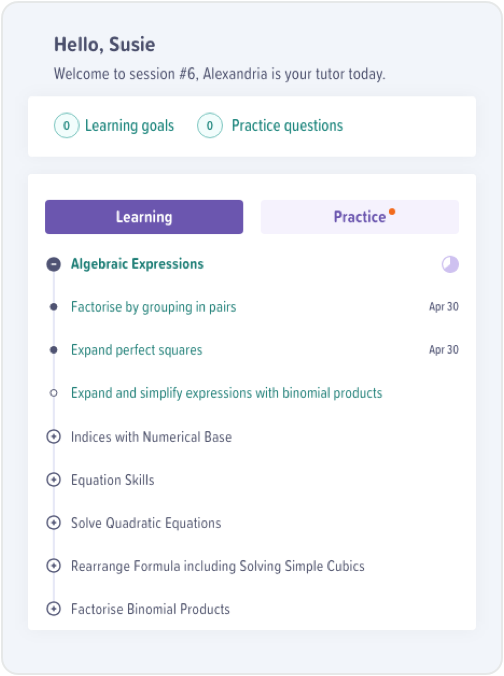 An example content plan sequenced in the Cluey Learning Platform.
Unit 3 topics
Further differentiation and applications
Exponential functions
Trigonometric functions
Differentiation rules
The second derivative and applications of differentiation
---
Integrals
Ant-differentiation
Definite integrals
Fundamental theorem
Applications of integration
---
Discrete random variables
General discrete random variables
Bernoulli distributions
Binomial distributions
---
Unit 4 topics
The logarithmic function
Logarithmic functions
Calculus of the logarithmic function
---
Continuous random variables and the normal distribution
General continuous random variables
Normal distributions
---
Interval estimates for proportions
Randomsampling
Sample proportions
Confidence intervals for proportions
---
Senior Maths
Year 12 Mathematical Methods
Year 12 Mathematical Methods builds on areas introduced in the previous year. Calculus and probability are further developed, while random variables and statistical inference are introduced.
Let's tailor a Year 12 Mathematical Methods learning program for
We've got the curriculum covered
Unit 3 topics
Further differentiation and applications
Integrals
Discrete random variables
Unit 4 topics
The logarithmic function
Continuous random variables and the normal distribution
Interval estimates for proportions
DETAILS
We've got all your learning goals covered
Need to address a specific need?
Perhaps the class room just isn't meeting all your learning needs or you want to prepare for a specific assessment.
Let's build a learning program for
How does our approach to learning work?
Tailored tutoring with a plan
The learning program
Structured around your individual needs and goals, our learning programs adapt over time to build your confidence and offer the right help at the right time.
Quality content
Developed by our experienced education team, the content in our learning programs is structured according to your skill level and individual needs.
We use a range of approaches to meet the needs of different students. Our approach is always clear and unambiguous, and designed to help you thrive.
Meet our education team
Tutoring sessions
Live, face-to-face and online
Expert tutors matched to your needs
Demonstration, guided exercises and reviews
Designed to be fun and engaging
View session breakdown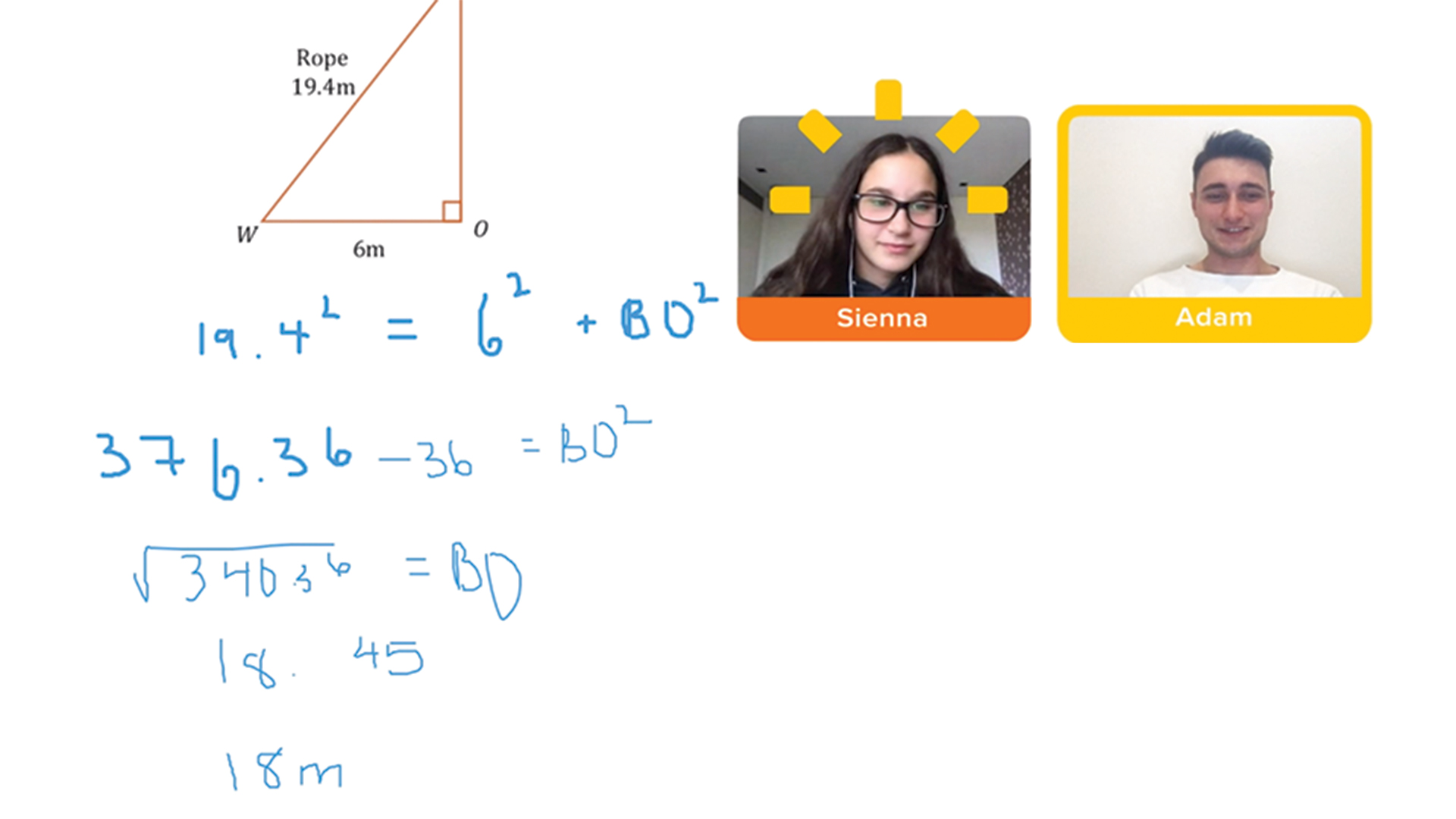 View 1-to-1 Senior Maths Session
Practice exercises
Optional practice questions and exercises to work through between sessions.
Regular reporting
Feedback after every session helps you keep track of your progress.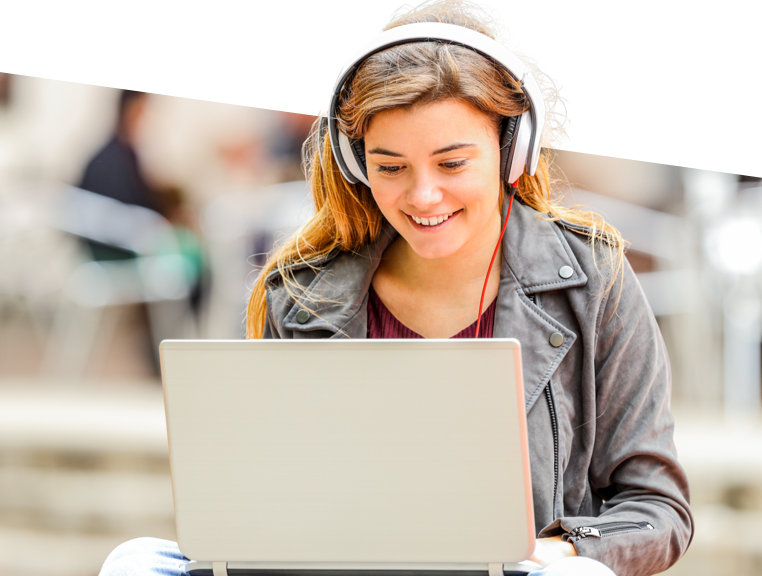 Flexibility
to suit busy family schedules
Learn from home (or anywhere) via our online platform.
Schedule sessions when they suit you, between 7am and 10pm, 7 days per week.
Reschedule easily when things get busy
Consistent
learning leads to progress that matters
From step one to step done, we're with you for your entire learning journey.
Session recordings allow you to revise at any time.
Progress reports ensure you are getting the right help at the right pace.
Guided tutoring helps you realise your potential.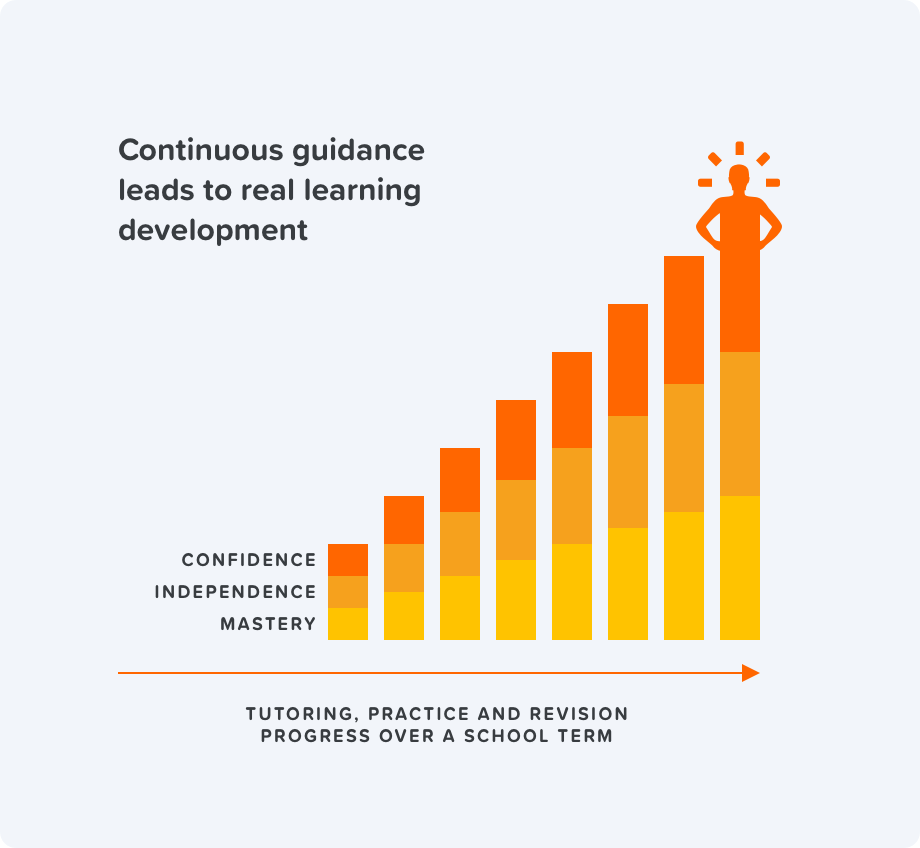 Let's build a learning program for
We won't stop until sine curves are straightforward
Senior Maths at Cluey
Based on the state and national curricula for Years 11 and 12, Cluey's approach to senior Maths focuses on advanced topics, such as calculus and statistical analysis, and is intended to prepare you for Maths at a tertiary level. Our personalised approach focuses on exam prep and gives you the opportunity to develop in areas you find challenging.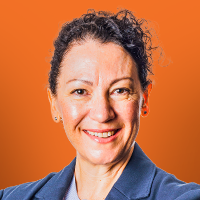 Head of Secondary Mathematics
Suzanne Walker
BSc, G.DipEd
Suzanne is responsible for developing and overseeing the secondary Mathematics programs. Suzanne was the recipient of 'the Most Outstanding Student Teacher' award from the University of NSW and has extensive experience teaching secondary Mathematics across all years and levels. She has also held roles as a lecturer at UNSW Global, a corporate trainer and as a software engineer.
Meet some of our 1,625+ expert Senior Maths tutors
Our tutors are all qualified teachers, exceptional ATAR achievers or experts in their respective fields.
Nicholas
NSW University Student (Bachelor of Medical Engineering (Honours))
Mathematics: Secondary & Senior
Nicholas completed his Higher School Certificate in 2020, achieving an ATAR of 91 and a score of 96/100 in Mathematics Advanced. He is now studying his Bachelor of Medical Engineering (Honours) from The University of Newcastle and has informal peer tutoring experience. He is a hard-working and dedicated Tutor with a focus on helping his students to achieve the academic results they are after.
Finau
VIC University Student (Bachelor of Software Engineering)
Mathematics: Secondary & Senior
Finau is currently studying a Bachelor of Software Engineering at RIT University and is passionate about Mathematics. Finau aims to deliver engaging and enjoyable lessons to students of all abilities to help them achieve and exceed their academic goals.
Keraro
SA University Student (Bachelor of Nursing)
Mathematics: Secondary & Senior
English: Secondary
Biology: Senior
Keraro is a passionate Tutor who is keen to maintain and/or improve students' grades. He is passionate about helping students develop their skills for life-long use, as they work towards acquiring educational independence. Keraro believes in fostering a positive and encouraging learning environment and feels with the right support, students can reach their potential.
We've helped thousands of Australian families
From catching up, building confidence and excelling in school, parents and students alike agree that Cluey works.
82% of Cluey parents agree their child's grades have improved
85% of Cluey parents agree their child is more confident
Impressed and grateful
"I am so impressed & grateful to Cluey - it's been such a blessing to have had such professional, caring & expert people support Aden for his upcoming HSC maths. AFfia is amazing & so positiv e- she has given Aden a much needed boost to his confidence & maths competence. Inspirational thanks Cluey"
As featured in
Cluey has been featured on the following sites
(Click a logo to read more)



Let's build a learning program for
Cluey 1 Hour Tutoring Sessions
Weekly learning through live tutoring sessions, feedback & practice
Each student's individual learning journey is supported through a series of live face-to-face sessions with an expert tutor matched to the student's needs. We cover all the theory and examples needed to ensure comprehension, and our sessions are designed to be engaging and encouraging.
Our expert tutors offer guidance through demonstration and worked examples and assign targeted practice questions to help students master the topics and concepts covered.
After each session, personalised feedback is provided to help students and parents track their progress.
Session breakdown
First 5 Minutes
Establishing the session theme, why are we here?
Discuss student's areas of focus (if first session)
Review previous session's assigned practice (if subsequent session)
Set session learning goals
---
45 Minutes
During the session
Work through exercises based on the topics and concepts for each learning goal
Tutor demonstrates, guides and explains concepts
Work through any challenges
Students are encouraged to explain their thinking to clarify their comprehension
---
Closing 5 Minutes
Reflection and looking ahead
Reflect on what has been achieved in the session
Set practice questions
---
Post-session 5 minutes
Tutor written feedback
Tutor provides personalised written feedback about the session to help track progress