Year 12 Physics
Our Year 12 Physics program covers all relevant syllabus outcomes in the TASC. Key topics covered are: motion, momentum and Newton's laws, gravity, electromagnetism, wave motion, light and nuclear physics. To excel in Year 12, students must demonstrate a thorough understanding of and ability to apply these concepts and also exhibit competency in exam technique by selecting and providing the relevant information, correctly structuring responses and showing working.
In-session content
Your content plan appears in the learning environment, sequenced to your learning needs and accessible with ease by you and your tutor.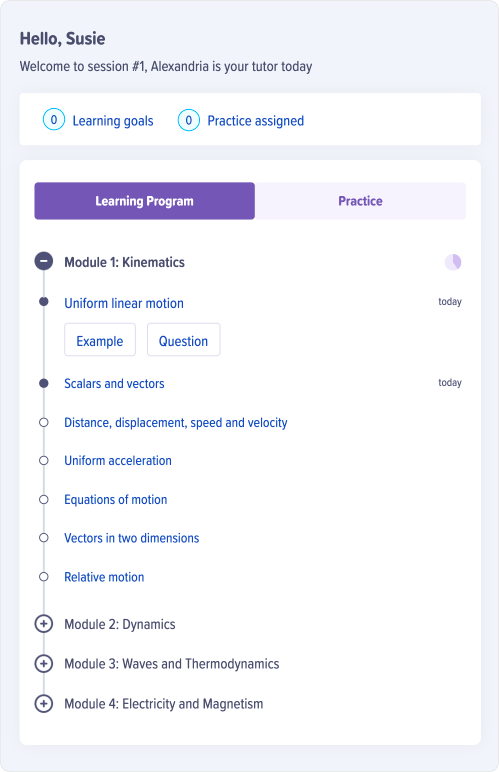 An example content plan sequenced in the Cluey Learning Platform.
Motion
Scalars and vectors
Linear motion
Equations of motion
Projectile motion
---
Momentum and Newton's Laws
Conservation of momentum
Newton's Laws of Motion
Circular motion
Work, energy and power
---
Gravity and Gravitational Fields
Newton's Law of Universal Gravitation
Gravitational force and gravitational field strength
Kepler's Laws
Motion of planets and satellites
---
Principles and Theories of Electromagnetism
Electrostatics and Coulomb's Law
Electric field strength
Magnetic fields
Electromagnetic induction
AC generators and transformers
---
General Principles of Wave Motion
Wave properties
Snell's Law
Superposition of waves
Interference, diffraction and polarisation
---
Wave-particle Nature of Light
Black-body radiation
Photoelectric effect
Bohr and Rutherford models
Wave-particle duality
---
Nuclear Physics
Radioactive decay
Transmutation and decay equations
Mass defect calculations
The Standard Model
---
Senior Physics
Year 12 Physics
As you consolidate and deepen your knowledge in Physics and prepare to sit some rather important exams, our personalised tutoring programs offer targeted help and address your individual challenges.
20% Off a trial session - limited spots available
Year 12 Physics Trial Session
We've got the curriculum covered
Motion
Momentum and Newton's Laws
Gravity and gravitational fields
Principles and theories of electromagnetism
General principles of wave motion
Wave-particle nature of light
Nuclear Physics
Learn More About What We Cover
We've got all your learning goals covered
Need to address a specific need?
Perhaps the class room just isn't meeting all your learning needs or you want to prepare for a specific assessment.
Let's build a learning program for
How does our approach to learning work?
Tailored tutoring with a plan
The learning program
Structured around your individual needs and goals, our learning programs adapt over time to build your confidence and offer the right help at the right time.
Quality content
Developed by our experienced education team, the content in our learning programs is structured according to your skill level and individual needs.
We use a range of approaches to meet the needs of different students. Our approach is always clear and unambiguous, and designed to help you thrive.
Meet our education team
Tutoring sessions
Live, face-to-face and online
Expert tutors matched to your needs
Demonstration, guided exercises and reviews
Designed to be fun and engaging
View session breakdown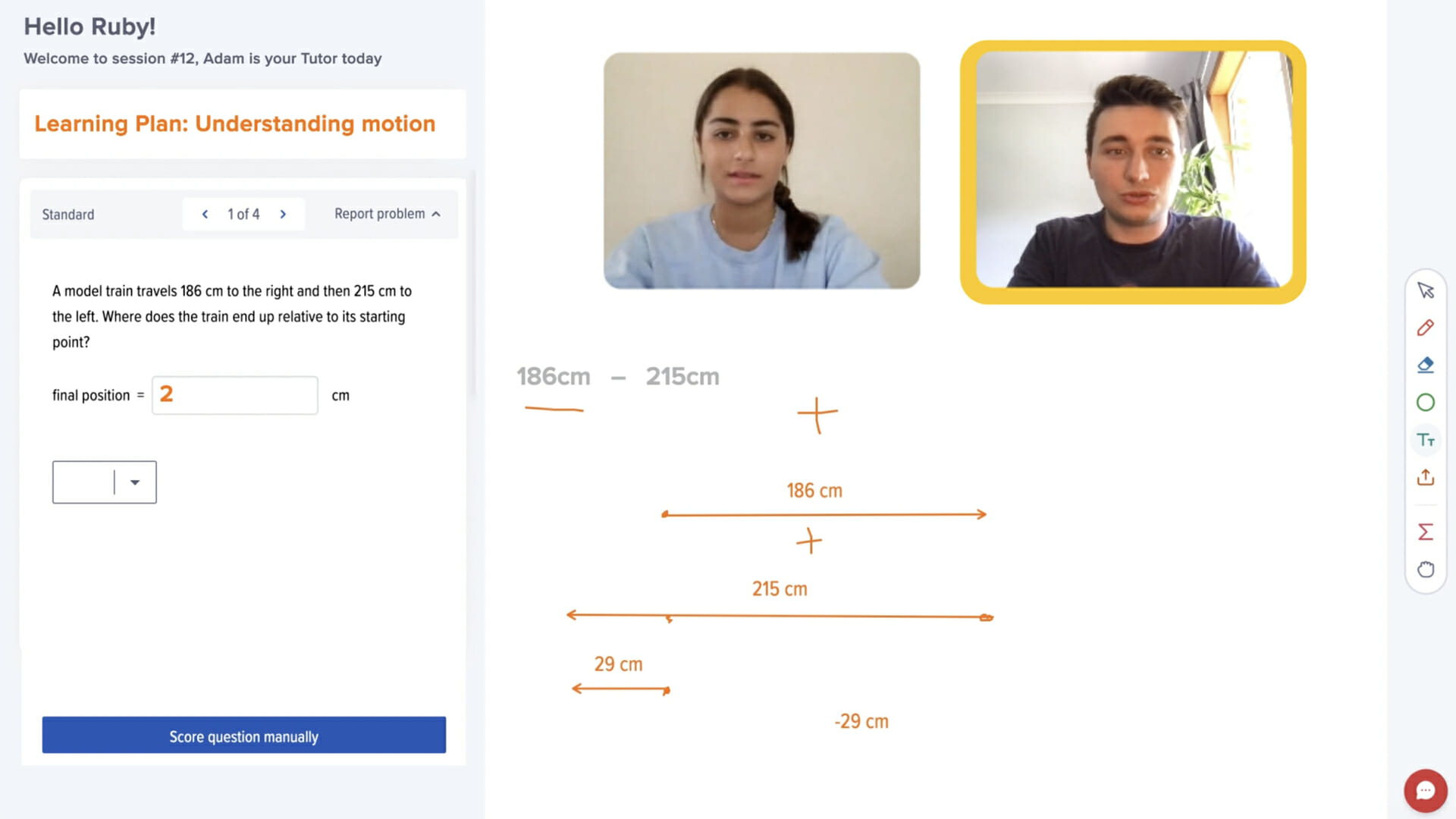 View a 1-to-1 Physics Session
Practice exercises
Optional practice questions and exercises to work through between sessions.
Regular reporting
Feedback after every session helps you keep track of your progress.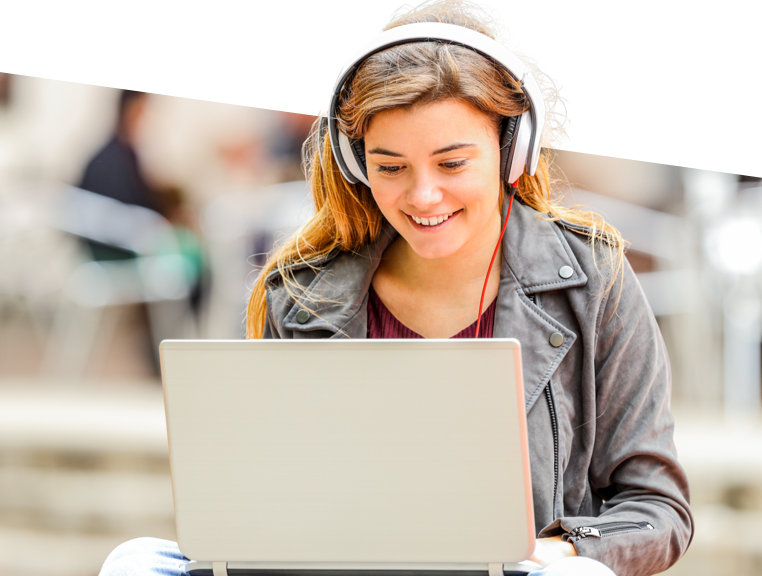 Flexibility
to suit busy family schedules
Learn from home (or anywhere) via our online platform.
Schedule sessions when they suit you, between 7am and 10pm, 7 days per week.
Reschedule easily when things get busy
Consistent
learning leads to progress that matters
From step one to step done, we're with you for your entire learning journey.
Session recordings allow you to revise at any time.
Progress reports ensure you are getting the right help at the right pace.
Guided tutoring helps you realise your potential.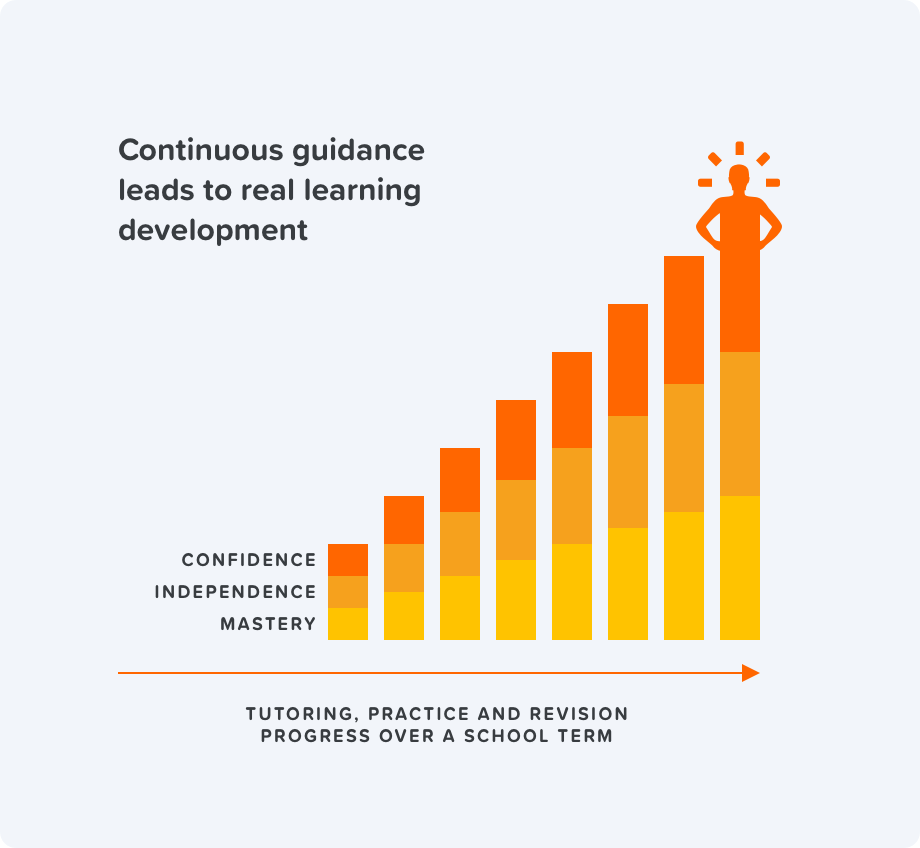 Let's build a learning program for
Physics gives you a gateway to the universe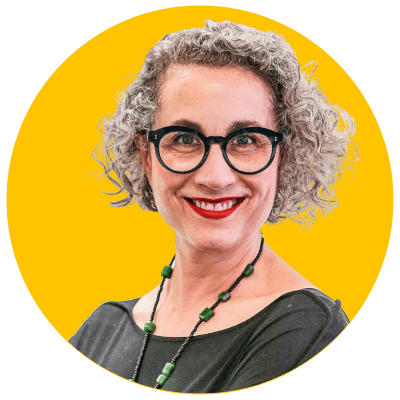 Meet Dr Selina Samuels
Dr Samuels and her Education team developed Cluey's unique CENTRE approach, and have created interactive learning programs that map to the curriculum and allow students to work at their own level and pace.
Physics Tutoring Program Based on the National Curriculum
Our Physics program has everything you require to master the subject. We work through the syllabus with you, starting with what you're currently learning at school, and adjust the program based on your specific needs and pace of learning.
Meet some of our 2,521+ expert Senior Physics tutors
Our tutors are all qualified teachers, exceptional ATAR achievers or experts in their respective fields.
Varun
Mathematics: Secondary & Senior
Chemistry: Senior
Physics: Senior
Varun has both a Master Degree in Chemistry, and a Doctor of Philosophy in Theoretical Chemistry. Varun has experience as a Research and Teaching Assistant, and has teaching expertise in Secondary Mathematics and Chemistry. Varun is also currently working at The University of New South Wales as an Academic.
Cooper
VIC University Student (Bachelor of Engineering / Bachelor of Science)
Mathematics: Secondary & Senior
Physics: Senior
Cooper completed his Year 12 certificate in 2019 with an ATAR score of 97.15. He is now completing a Bachelor of Engineering and Bachelor of Science at Monash University. Cooper is excellent at developing interesting ways to remember complex Maths concepts. He connects his lessons to real life examples, helping his students see relevance in every session.
Istvan
SA Teacher
Mathematics: Secondary, Senior & Lantite
Physics: Senior
Istvan is a qualified, registered Secondary Teacher with 18 years of teaching experience in Secondary Mathematics with Years 8-12. He has completed his PhD in Mathematics Education and has experience as a University Lecturer as well as a Tutor of Secondary and Tertiary Mathematics. Istvan is confident in explaining concepts and skills in a way that his students can easily understand.
We've helped thousands of Australian families
From catching up, building confidence and excelling in school, parents and students alike agree that Cluey works.
82% of Cluey parents agree their child's grades have improved
85% of Cluey parents agree their child is more confident
Increased confidence and grade average
"My son Ben has had 13 on line chem sessions with Cluey leading up to his final exams. I chose Cluey over a range of online and personal tutoring options because they talked to Ben's needs and offered high calibre tutors with a depth of knowledge of current curricula. The on line platform is also excellent. Ben's grade average has progressively increased and he is looking forward to his final exam with the confidence he was lacking months ago."
As featured in
Cluey has been featured on the following sites
(Click a logo to read more)



Let's build a learning program for
Cluey 1 Hour Tutoring Sessions
Weekly learning through live tutoring sessions, feedback & practice
Each student's individual learning journey is supported through a series of live face-to-face sessions with an expert tutor matched to the student's needs. We cover all the theory and examples needed to ensure comprehension, and our sessions are designed to be engaging and encouraging.
Our expert tutors offer guidance through demonstration and worked examples and assign targeted practice questions to help students master the topics and concepts covered.
After each session, personalised feedback is provided to help students and parents track their progress.
Session breakdown
First 5 Minutes
Establishing the session theme, why are we here?
Discuss student's areas of focus (if first session)
Review previous session's assigned practice (if subsequent session)
Set session learning goals
---
45 Minutes
During the session
Work through exercises based on the topics and concepts for each learning goal
Tutor demonstrates, guides and explains concepts
Work through any challenges
Students are encouraged to explain their thinking to clarify their comprehension
---
Closing 5 Minutes
Reflection and looking ahead
Reflect on what has been achieved in the session
Set practice questions
---
Post-session 5 minutes
Tutor written feedback
Tutor provides personalised written feedback about the session to help track progress